21 PAINT JOBS TO AVOID WHEN SELLING YOUR CAR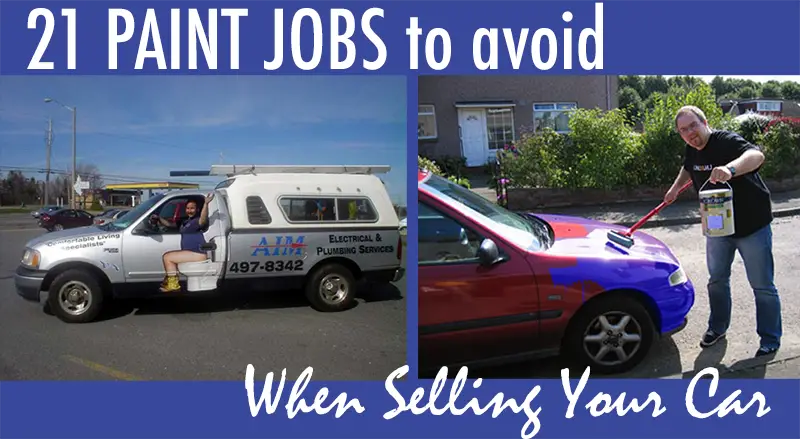 If you can't get enough of how extreme people take their paint jobs, don't worry... because we have more. Lets continue looking at some crazy paint jobs. Remember, if for some reason you have to paint your car, try and avoid the below ideas! Enjoy the remaining gallery of paint jobs.
12) HELLO KITTY
[et_social_share_media]
Hello Kitty all over a a little smart car. I get the Hello Kitty craze, but maybe this is taking it a bit too far?
13) SPONGE BOB CAR
Sponge Bob characters all over car. I wonder if this car can submerge under water?
14) BLINK 182 CAR
Blink 182 music group painted on the hood of this car. Lets hope the speakers in this car are a lot better than the paint job.
15) SHARPIE VEHICLE
A man painting his car with a sharpie. I know Sharpies are permanent, but how many of these markers is it going to take to paint this whole car. By the way, you missed a line!

16) TRIBAL TATTOO
Car covered in tribal designs. How much do you want to bet that the driver has a tribal tattoo on their arm or calf muscle?
17) ROLL ON PAINT
Guy using a bucket of paint and rolling it onto his car. It probably sounded like a great deal when he could paint his house and his car with the same bucket.
18) DUCT TAPE CAR
Racing car (sort of) covered in duct tape. I know duct tape holds everything together, but this may be a little too much even for this car.
19) LOUIS VUTTON CAR
Car covered in Louis Vutton logos. I wonder if the owner of this car had to pay more for his car because of the brand?
20) OBAMA CAR
Car with president Obama painted on the hood. We all know who this owner voted for.
21) GUY ON SIDE OF CAR
Guy painted on side of vehicle. Another clever paint job, but what happens if he sells the car to a woman?
[/et_social_share_media]
VIEW AS ONE PAGE