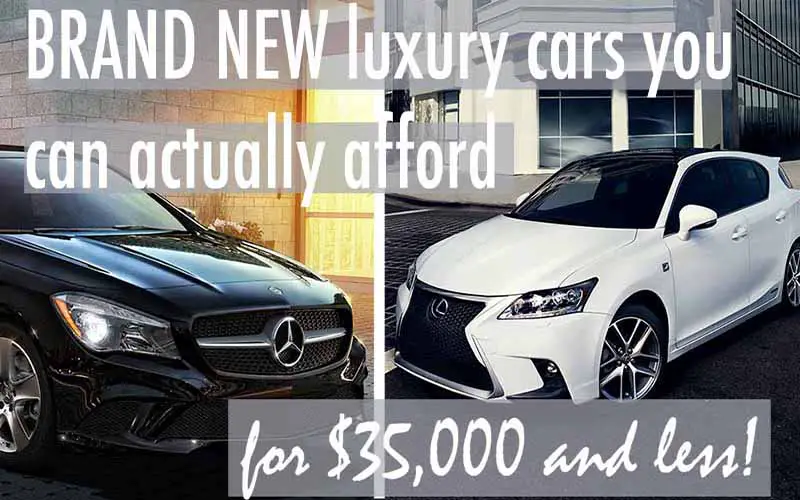 Many economy brands have luxury components to them, as you have seen from the previous cars. Acura is Honda, Lexus is Toyota, Infinity is Nissan and so on. Keep reading to see more luxury cars under $35,000.
---
YOU MIGHT ALSO LIKE:
---
12) 2016 Audi A3
Starting at $30,900. The Audi A3 is the smaller version of the A4, and is a recent introduction in the US marketplace. All Audi's feature excellent handling, especially if you get the Quattro which has 4 wheel drive.
13) 2016 A4
Starting at $35,900. The Audi A4 barely cut the corner here, but made it to our list. The A4 is a sporty looking luxury Sedan, which many people compare to the BMW 3 series.
14) 2016 Audi Q3
Starting at $33,700. Here is another surprising vehicle priced at less than $35,000. The Q3 is smaller than the Q7, but is still roomy enough if you are considering an SUV in this price range. This SUV features the excellent handling that Audi is known for.
15) 2015 Cadillac ATS Sedan
Starting at $33,215. The Cadillac ATS has many car experts in awe. This car, they say, performs almost better than the BMW 3 series, and is a handsome looking car. The Cadillac combines luxury and sportiness in a great package.
---
YOU MIGHT ALSO LIKE:
---
16) Infinity 2015 Q40
Starting at $33,950. The infinity Q40 was previously known as the G Sedan. Infinity is the luxury off-shoot of Nissan, so they have good reliability.
17) 2015 Infinity Qx50
Starting at $35,000. Another great value in the crossover SUV category.
18) Lincoln MKC
Starting at 33,100. Lincoln is a division of Ford, and these vehicles are very well designed. If you are looking for a luxury car that's American made, this is a great option.
19) Lincoln MKZ
Starting at 35,190. Many buyers considering this vehicle, also consider the Cadillac ATS. It's hard to go wrong choosing either one.
20)Volvo S60
Starting at 33,950. You don't see as many Volvos on the road as you do the other luxury brands. So if you are looking for an alternative luxury brand, you should strongly consider the Volvo S60.
21)2015 BMW x1
Starting at $34,800. Last, but certainly not least, the The BMW x1 makes our list of the the top 21 luxury vehicles under $35,000. Many people can't believe you can actually get a BMW SUV for this price, but it's true. It does feel rather small compared to the X5, but it is BMW's most compact sports activity vehicle. The x1 still has good enough room and cargo space, and excellent handling.

2 of 2 < PREVIOUS PAGE