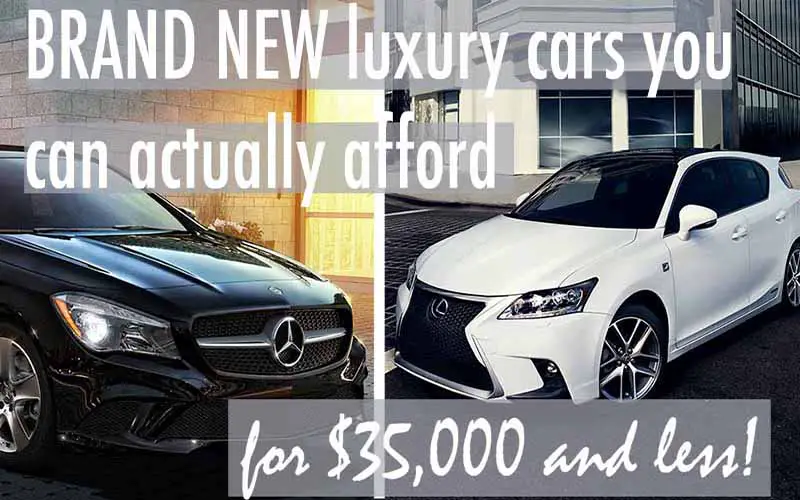 If you are in the market for a car, and are on a tight budget, you may have disregarded buying a luxury car. We are fans of
buying CPO cars
, or brand new cars that offer
manufacturer rebates
- since this is where the very best deals are at. However, if you had your sight set on more economy cars, because you thought luxury cars where out of your price range, think again.
You can still find luxury cars for under $35,000
.
If you avoided cars like
BMW's
,
Audi's
and
Mercedes
because you thought you could never afford them, you will be pleasantly surprised. They are more affordable than you thought. Many luxury car manufacturer's create more economical models in order to bring you into "the family." They hope once you drive their cars, you will continue to upgrade. You will be surprised at the cost of some of these models. However, before you go ahead and buy a luxury car in this price range, think about the maintenance you will have to perform once the car is out of warranty. Also, remember that
these prices are "starting at"
. So that means you get the bare bones. Once you start adding options, the prices will go up.
Enjoy our list of 21 cars luxury cars for under $35,000
.
---
YOU MIGHT ALSO LIKE:
---
1) 2015 BMW 320i Sedan
[et_social_share_media]
Starting at $32,950. You can finally drive the ultimate driving machine. The BMW 3 series has a heavy steering feel that BMW fans love. The car features a perfect 50/50 weight distribution which allows you to take tight corners. The engine on the 320 is a 180 hore power inline 4-cylinder TwinPower Turbo.
2) 2015 BMW 228i Coupe
Starting at $32,100. The 228i is slightly smaller than the 3 series, but has a 4-cylinder TwinPower Turbo engine with 240 horse power.
3) 2016 Lexus CT 200h Hybrid
Starting at $31,250. Lexus is the luxury brand of Toyota, which means these cars do not break easily. Not only can you drive a Lexus, but this hybrid vehicle gets an impressive 42 MPG combined.
4) 2016 Ct Lexus CT 200h F Sport
Starting at $32,980. If you like the Lexus 200h and want some extra sport styling, then this is for you.
5) 2015 Mercedes Benz CLA 250 Coupe
Starting at $31,500. The Mercedes Benz CLA 250 is the lowest priced Mercedes available. It has a 2.0L Turbo with 208 horsepower.
---
YOU MIGHT ALSO LIKE:
---
6) 2015 Mercedes GLA
Starting at $31,300. Even more surprising than the Mercedes CLA 205, is being able to get an SUV Benz.
7) 2016 Acura TLX
Starting at $31,445. If you like the reliability of a Honda, but don't like the look and perception of one, then Acura is the way to go. Acura is the luxury division of Honda, and these cars are stunning.
 8) 2016 Acura ILX
Starting at $27,900. The Acura ILX has some nice, sporty designs. At under $30,000, this is a great luxury buy.
9) 2016 Buick La Crosse
Starting $31,065. For many, the Buick doesn't seem like a luxury brand. However, the Buick is indeed classified as a luxury sedan. So get rid of the old sterotype of the Buick, because this vehicle provides a lot of amenities.
10) 2016 Buick Regal
Starting at $27,065. another great buy at under $30,000.
11) 2015 Buick Verano
[/et_social_share_media]
$21,065. So this may be stretching it a little, but the Buick Verano can still be considered a luxury vehicle. The low price, makes it the lowest priced vehicle on our list of 21 cars. Continue reading to see the full list.
1 of 2 NEXT PAGE >