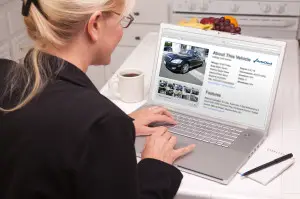 While the internet is a great place to start researching your used car, it is not always the most reliable when it comes to finding the fairest price for your vehicle. The prices found on any given website do not always reflect the reality of the automobile market, and it will take a little extra research on your part in order to find the most accurate value.
When researching the value of your vehicle, you need to recognize the underwriting variables that can influence the worth of the car that websites often leave out of their estimates. Consider the following:
-          The condition of the vehicle greatly influences its worth. The types of things that reflect the condition are mileage, accident history, how many owners etc.
-          Location can also determine price variances. Tax rates are also different in different regions, which can have an effect on how much you pay.
-          Demand is an influencing factor, as well as desirability. For example, the value on a vintage car may increase with the inclusion of a great sound system, or a brand new engine.
-          The economy can play a big role in car prices, especially in today's society when gas prices are peaked and manufacturer's re encouraged incentives to design more "green" vehicles.
Keep those things in mind when you are researching on the web. Blue Book guide like NADA Blue Book, Kelley Blue Book, and Edmunds can provide you with a ballpark of price ranges, but in order to hone in on a realistic offer or listing, you will need to keep in mind the variables discussed above. Keep tabs on these variables by checking out market trends. Visit websites like www.autotrader.com and www.cars.com on a regular basis to keep an eye on how the values fluctuate throughout the seasons. They won't provide you with a final answer, but they will provide you with the extra information you need to reach a well-rounded, accurate answer.
NADA car value is usually considered to be higher than other blue book guide like Kelley Blue Book due to the various factors involved. NADA car value works best when buying a new vehicle as it does not considers the actual condition of the vehicle. You can find more information regarding NADA Blue Book or Kelley Blue Book on Google for more information.