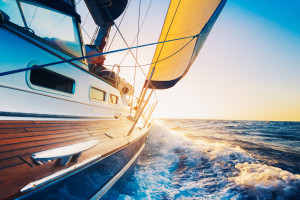 As spring finally upon us, boat owners everywhere will be getting ready to put their boats in the water. If you're looking to purchase a used boat just in time for the warm, sunny weather, consider the following steps. With these steps, you'll be able to secure the best deal and value for your used boat.
1. Decide what kind of boat you want – The first step in the boat buying process is deciding what kind of boat you want. There are countless different kinds of boats and models, so you need to narrow down your search. Do you want a boat for sailing, fishing or cruising? What size, power and brand are you looking for? Do your research to determine what kind of boat will be best for you.
2. Set a concrete budget – Establish a concrete budget and stick to it. That way, you won't waste time looking at boats that you can't afford. Don't forget to account for the down payment, annual operational fees, and monthly carrying cost.
3. Utilize pricing and value guides – Whether you are a first-time boat buyer or someone looking to replace an old boat, you should utilize pricing and value guides like Kelley Blue Book Boats. Guides can shine a better light on the value and price of the kind of used boat you want to purchase. They can help you see what price point they are selling for in your area, as well as nationally. With this knowledge, you can be sure you are not getting ripped off.
4. Thoroughly inspect the boat – When you go to look at the boat, make sure you inspect it thoroughly. Search for any indications of damage, poor construction, harsh use, and improper care. Inspect the woodwork, upholstery, gel coat, deck, engine and hardware. Make sure the deck has no soft spots and that there is no rust, oil under the engine, or soft hoses. Also, check to see if there are water lines inside the engine or the boat, as this could indicate that it has previously flooded.  You also want to make sure all of the boat's hardware is working properly and to check for any signs of a previous accident. In addition to inspecting the boat yourself, you should get it professionally inspected.
5. Check for a clean title – Before purchasing the boat, you want to make sure it has a clean title. You can find out by contacting the National Vessel Documentation Center, which is a brand of the Coast Guide, and asking for an abstract title for the boat.
6. Test drive the boat – Just because everything seems to be in working order, doesn't mean the boat will operate smoothly on the water. The only way to be sure is by test driving it.