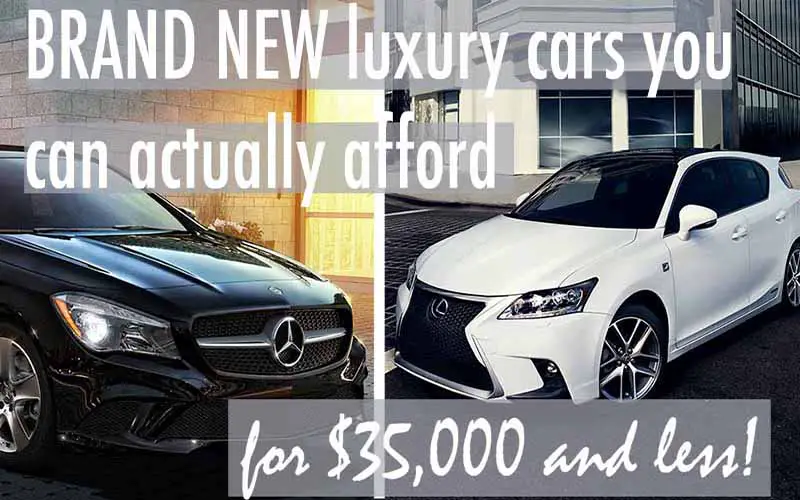 If you are in the market for a car, and are on a tight budget, you may have disregarded buying a luxury car. We are fans of buying CPO cars, or brand new cars that offer manufacturer rebates - since this is where the very best deals are at. However, if you had your sight set on more economy cars, because you thought luxury cars where out of your price range, think again. You can still find luxury cars for under $35,000.
If you avoided cars like BMW's, Audi's and Mercedes because you thought you could never afford them, you will be pleasantly surprised. They are more affordable than you thought. Many luxury car manufacturer's create more economical models in order to bring you into "the family." They hope once you drive their cars, you will continue to upgrade. You will be surprised at the cost of some of these models. However, before you go ahead and buy a luxury car in this price range, think about the car maintenance you will have to perform once the it is out of warranty. Also, remember that these prices are "starting at". So that means you get the bare bones. Once you start adding options, the prices will go up. Enjoy our list of 21 cars luxury cars for under $35,000.
1) 2015 BMW 320i Sedan
Starting at $32,950. You can finally drive the ultimate driving machine. The BMW 3 series has a heavy steering feel that BMW fans love. The car features a perfect 50/50 weight distribution which allows you to take tight corners. The engine on the 320 is a 180 horse power inline 4-cylinder TwinPower Turbo.
2) 2015 BMW 228i Coupe
Starting at $32,100. The 228i is slightly smaller than the 3 series, but has a 4-cylinder TwinPower Turbo engine with 240 horse power.
3) 2016 Lexus CT 200h Hybrid
Starting at $31,250. Lexus is the luxury brand of Toyota, which means these cars do not break easily. Not only can you drive a Lexus, but this hybrid vehicle gets an impressive 42 MPG combined.
4) 2016 Ct Lexus CT 200h F Sport
Starting at $32,980. If you like the Lexus 200h and want some extra sport styling, then this is for you.
5) 2015 Mercedes Benz CLA 250 Coupe
Starting at $31,500. The Mercedes Benz CLA 250 is the lowest priced Mercedes available. It has a 2.0L Turbo with 208 horsepower.
6) 2015 Mercedes GLA
Starting at $31,300. Even more surprising than the Mercedes CLA 205, is being able to get an SUV Benz.
7) 2016 Acura TLX
Starting at $31,445. If you like the reliability of a Honda, but don't like the look and perception of one, then Acura is the way to go. Acura is the luxury division of Honda, and these cars are stunning.
 8) 2016 Acura ILX
Starting at $27,900. The Acura ILX has some nice, sporty designs. At under $30,000, this is a great luxury buy.
9) 2016 Buick La Crosse
Starting $31,065. For many, the Buick doesn't seem like a luxury brand. However, the Buick is indeed classified as a luxury sedan. So get rid of the old sterotype of the Buick, because this vehicle provides a lot of amenities.
10) 2016 Buick Regal
Starting at $27,065. another great buy at under $30,000.
11) 2015 Buick Verano
$21,065. So this may be stretching it a little, but the Buick Verano can still be considered a luxury vehicle. The low price, makes it the lowest priced vehicle on our list of 21 cars. Continue reading to see the full list.
Many economy brands have luxury components to them, as you have seen from the previous cars. Acura is Honda, Lexus is Toyota, Infinity is Nissan and so on. Keep reading to see more luxury cars under $35,000.
12) 2016 Audi A3
Starting at $30,900. The Audi A3 is the smaller version of the A4, and is a recent introduction in the US marketplace. All Audi's feature excellent handling, especially if you get the Quattro which has 4 wheel drive.
13) 2016 A4
Starting at $35,900. The Audi A4 barely cut the corner here, but made it to our list. The A4 is a sporty looking luxury Sedan, which many people compare to the BMW 3 series.
14) 2016 Audi Q3
Starting at $33,700. Here is another surprising vehicle priced at less than $35,000. The Q3 is smaller than the Q7, but is still roomy enough if you are considering an SUV in this price range. This SUV features the excellent handling that Audi is known for.
15) 2015 Cadillac ATS Sedan
Starting at $33,215. The Cadillac ATS has many car experts in awe. This car, they say, performs almost better than the BMW 3 series, and is a handsome looking car. The Cadillac combines luxury and sportiness in a great package.
16) Infinity 2015 Q40
Starting at $33,950. The infinity Q40 was previously known as the G Sedan. Infinity is the luxury off-shoot of Nissan, so they have good reliability.
17) 2015 Infinity Qx50
Starting at $35,000. Another great value in the crossover SUV category.
18) Lincoln MKC
Starting at 33,100. Lincoln is a division of Ford, and these vehicles are very well designed. If you are looking for a luxury car that's American made, this is a great option.
19) Lincoln MKZ
Starting at 35,190. Many buyers considering this vehicle, also consider the Cadillac ATS. It's hard to go wrong choosing either one.
20)Volvo S60
Starting at 33,950. You don't see as many Volvos on the road as you do the other luxury brands. So if you are looking for an alternative luxury brand, you should strongly consider the Volvo S60.
21)2015 BMW x1
Starting at $34,800. Last, but certainly not least, the The BMW x1 makes our list of the the top 21 luxury vehicles under $35,000. Many people can't believe you can actually get a BMW SUV for this price, but it's true. It does feel rather small compared to the X5, but it is BMW's most compact sports activity vehicle. The x1 still has good enough room and cargo space, and excellent handling.
Buying a new car isn't always the best option for everyone, especially for anyone who's on a tight budget. While nothing beats the excitement of riding a new one, you can always opt to go for a car make over instead if you can't afford yet to purchase a brand new vehicle to replace your old car with.