So you're the kind of person who loves to have tons of room and people on a boat. You also love to entertain. Well, if this is true, then you need a robust boat that encompasses a vast deck designed exclusively for relaxing purposes. Deck and pontoon boats are two of the most popular boats for this this situation since they are intended to hold more folks with comfort over an average boat. While their decks are similar, it's the hull in the water that makes a huge difference between them. We're going to explore and compare a deck boat vs pontoon in detail, including their pros and cons.
Pontoon Boats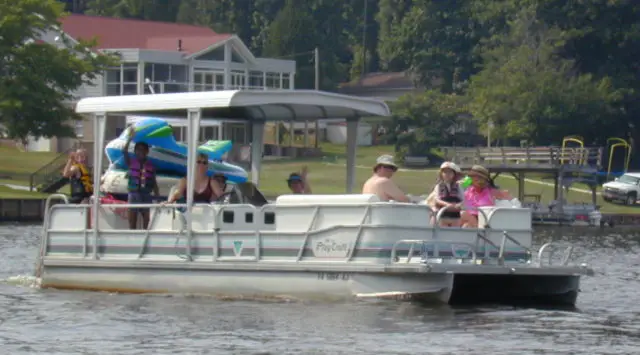 A pontoon boat is comprised of at least two or three cylinders called "Pontoons," which attach to the underneath of a vast rectangular flat deck. A pontoon, in simple terms, is a flotation device. There are three sorts of pontoon boat designs including:
Single chamber stumped round pontoons
U-shaped pontoons packed with foam
Round pontoons complete with airtight compartments.
While pontoons are exceptionally resilient in keeping the deck afloat, they aren't sturdy when it comes to handling rough seas. A three-cylinder pontoon design is great for speed— which is in a sharp contrast to the budget-minded two-cylinder designs.
Deck Boats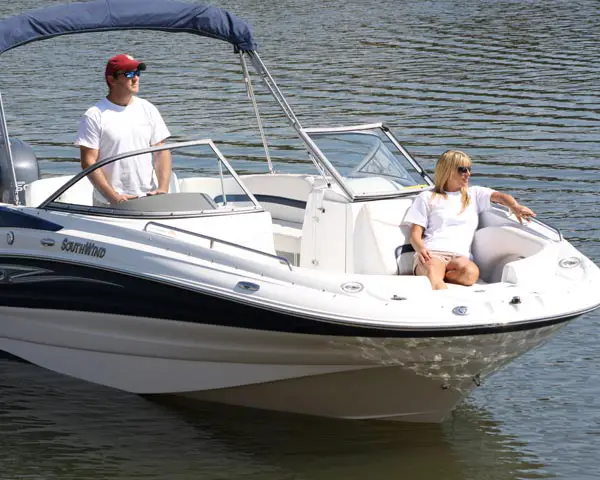 A deck boat consists of a large "V-shaped" flat deck at its extreme end. Its deck is attached to a V shaped hull that's identical to a typical power boat hull. It boasts a sleeker design, enabling the boat to cut through the waters with absolute ease while giving it implausible stability in rough seas. Although the design of the hull allows for better maneuverability and speeds with a deck boat, it has less space than pontoon.
Difference Between a Deck boat and a Pontoon
The Physique
Though some of the standard differences between the deck and pontoon boats are somewhat blurring, distinct physical features still exist and make the two boats unique. It's prudent to note that deck boats encompass sleek aerodynamic lines that are identical to other sport boats. They also have greater aesthetic appeal than their classy cousin, the pontoons.
On the other hand, pontoon boats are boxier and have less maritime appeal. However,  note that this aspect has slightly become less true over the years—thanks to new pontoon models that are being launched every year.
Functionality
While pontoon boats have the capability to reach speeds for pulling skiers, they're mainly designed for calm, small gatherings on the water. Deck boats are roomy and present heaps of comfy chairs and benches designed for enjoyment.
Although the deck boats are designed for maneuverability and speed in the water, they have insufficient deck space. Similarly, they do have comfortable benches and room, yet they're slightly smaller than their pontoon counterparts.
Versatility
Both styles of boats really shine in terms of their capacity to execute different things in the sea. They can be used for fishing, camping, cruising, water sports… just to mention a few.
Essentially, based on your family's preferences, there are various types of diverse packages to dial in your favorite activities; including tackle storage, rod holders, and live-wells for hardcore anglers. If you are like most people who consider one of these boats, however, you'll find that the basic specs and features can serve you perfectly well. You can fish in the morning, pull your kids on tubes in the evening and wind up your day with a stunning sunset cruise.
Ease of Operation
In this modern world of trailer boating, you might never get anything much better than deck and pontoon boats. They have stable platforms and both of them are relatively easy to master—especially when it comes to launching, retrieving as well as cruising.
For an immersive cruising experience, though, consider a raised helm or a captain's seat featuring a fold up bolster as it'll boost the visibility. Pull-up cleats that are conveniently installed all-around the deck can make it a cinch in terms of pulling up and docking from different angles. Also, ensure you have docking lights for stowing the boat safely in the evening.
Suitability of the Deck and Pontoon Boats for Different People
There's a key reason pontoon boats are considered to be floating living rooms. Among day boats, pontoon boats present the most usable room for the dollar compared to any other present-day boat, including a deck boat. Pontoons typically fit up to 10 to 20 folks in comfort depending on their model.
Thus, pontoon boats are suitable for a whole family. Similarly, they're the best options for kids and old folks who need ample space to stretch and play inside the boat.
While deck boats aren't as spacious as their cousin, Pontoon, they can still accommodate up to eight to twelve folks in comfort. This isn't really shabby considering it's a multipurpose boat. It's a great pick for a single person.
Because a pontoon boat is a (literally) floating, fenced patio, it's a great option for folks who need to spend their day on the lake while having a barbecue, listening to music, wining, and lounging or beaching on the sand bank. A pontoon boasts a vast space for low-key family bashes and outings.
Pros of Pontoon boats
Space
A pontoon is particularly notorious since it makes boating with friends and family so easy. It encompasses a spacious deck and ample seating, making it extremely functional as guests have abundant space to lounge and even stretch around. The versatility of a pontoon boat allows their owners to carry more stuff, including lawn chairs, charcoal grills, and ice chests as well as other bulky stuff.
Entertainment
Pontoon boats afford the extra space which makes them ideal for entertainment. The extra space allows for free movement, and is exceptionally perfect for fun activities like sunbathing, grilling and swimming. Contrary to dozens of fishing and speed boats that make it intimidating to get into the sea to swim, it's easy to board pontoons since their decks sit low on water. Many of them are furnished with bimini tops —allowing guests to relax in the shade.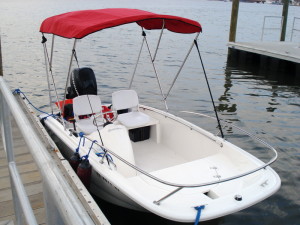 Cons of Pontoons
One-dimensional
A pontoon boat is just not rigid enough to take far from the shore. So, if the only reasonable closest body of water to you is a sea, ocean or a large water body, a pontoon might not be a good option. For this reason, it's only viable for lakes and rivers that are calm.
Mobility
A pontoon boat is typically bulky, which makes it challenging to control it in windy weather. Those who utilize pontoon boats for bass fishing find it difficult to maneuver into some narrow spots; places where fishermen must reach.
Additionally, a pontoon boat doesn't handle heavy waves or strong currents well since it sits quite low, so the water can simply flood into it - especially in tempestuous weather. Therefore, a pontoon is virtually unheard of on vast water bodies.
Pros of a Deck Boat
Attractive Appeal
Deck boats look nice, appealing and authentic. They're relatively good in terms of non-skid surface, and they typically fit the character of older, more classically designed boats.
Speed
Deck boats are vessels that are designed with maximum open room for up to 12 folks. It boasts unsurpassed speed for recreational activities—including water sports, fishing and entertainment.
Innovative Engineering
Deck boats encompass the most innovative engineering, providing a versatile platform that brings about an ultimate boating experience. In fact, they're the most versatile boats on the water since 1974, and are perfectly designed for either a single person or for small family fun. They're similarly packed with amenities, which is the real answer to an enthusiastic boater.
Cons of a Deck Boat
Leakage
Screwed down decks are often subject to leakage, not to mention the declamation as well as core rot that makes it expensive for maintenance.
Hot underfoot
Deck boats can have hot underfoot especially in the direct sun. It may result in some serious maintenance problems, such as deck leaks, replacing bungs, caulking, etc. They are also somewhat heavy and may add considerable weight to the boat on the water.
Final Thoughts
Hopefully by now, you have a general ideas of the differences between a deck boat vs a pontoon. Regardless of the boat you choose, you can't go wrong. Either one will provide you and your family a lot of wonderful memories and fun. And if you are single, either one will provide unique dating adventures than the typical dinner and a movie!