Are you interested in buying a pontoon boat but have no idea how much one costs? Then you've come to the right place. 
Pontoon boats are beloved for their versatility, quality, and durability. Their prices vary a lot, coming in as low as $12,000 to as high as over $250,000. Because of this huge price range, it can be difficult to make a good buying decision without any prior information.
It's more rewarding to make a purchase when you know exactly what you are paying for and which additional accessories will benefit you the most.
In this article, we'll cover the answer to the question: how much does a pontoon boat cost? You should take a close look at the features, quality, amount of power, and other specifications that affect the cost before purchasing your pontoon boat.
Cost Considerations for a Pontoon Boat
Pontoon Size
The final purchase price for a pontoon boat is influenced by the pontoon size. This can range from 20 feet in length for medium-sized pontoons to 28 to 30 feet in length for large-sized pontoon boats. Smaller sizes are considered lesser than 20 feet and are cheaper as well.
The size of your pontoon covers the length and width as well when making a decision. Expect a well-made 20-foot-long pontoon to cost about $20,000 plus and a medium-sized 24-foot-long pontoon to start at prices near $35,000 and up to $60,000.
Tri-Toons also add to the cost of a typical pontoon and typically cost anywhere from $45,000 to $85,000 for 24-foot-long Tri-Toons.
Our advice is to consider how much space you need before you make a buying decision. In general, a small pontoon less than 20 feet long will accommodate up to 8 passengers and a 24-foot-pontoon can comfortably accommodate 13 people.
For every extra foot, expect an equivalent increase of about $1000 in cost for pontoons of the same model.
Engine Power Capacity
The price range of a pontoon is mostly determined by the size of the engine. This is the most important cost consideration and can drive up the purchase price of a pontoon by several hundred thousand dollars.
The engine of the pontoon will also generally increase as the size of the pontoon increases. The engine size also determines how fast you can cut across the water, how much fuel you save, and how the pontoon performs in rough water.
For example, upgrading from a 50 HP pontoon boat that costs $22,000 to a 115 HP pontoon can cost you an additional $35,000 before taxes.
Popular pontoon engines usually range from 50 HP to 150 HP but can be found in ranges from 25 HP to 400 HP.
Some pontoons also come equipped with two engines to balance the pontoon better and provide double the power while increasing efficiency.
Types of Pontoon Boats
Pontoons can be used for various activities, so manufacturers have become increasingly adept at making different types of pontoons designed for specific tasks.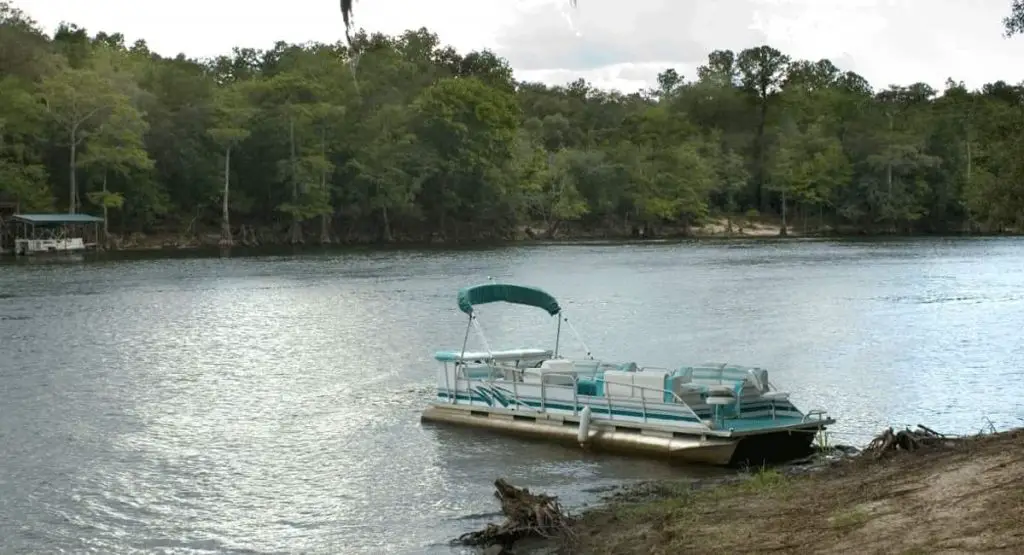 The type of boat will also affect the final pontoon boat price. For example, the average cost of a fishing pontoon will be very different from the price of a luxury pontoon or a sport pontoon you can take water skiing or tubing.
High-performance pontoons have a focus on power and speed, often with an engine that offers a lot of horsepower. They are priced slightly lower than luxury pontoons at the $50,000 to $60,000 range.
Luxury pontoons can cost anywhere from $60,000 to $150,000 because of their lavish design and additional accessories that increase your comfort. They come customized to fit your exact needs without compromising on quality.
Fishing pontoons are usually the cheapest type of pontoons. They are spacious and provide enough room to haul in your catch and store it in fishing live wells. They also include additional fishing accessories and are usually priced around $15,000 to $25,000.
Water sport pontoons are made with speed and power in mind. They are also specially made to tow skiers, tubing, wakeboards, and other throwables.
Thus, they need to be powerful enough to pull extra weight from behind while maintaining high speeds. They usually cost between $25,000 to $35,000.
Quality of Pontoon Boat
Build quality, the material used, and the finishing will also affect the initial price of a pontoon boat. Material variations like fiberglass, aluminum, or any other high-cost fittings can bump up the price significantly.
Similarly, opting for vinyl flooring that's easier to clean and maintain will add more to the final price as opposed to carpet flooring.
Other materials used to provide support on deck vary, and such variations can add to the final price of the pontoon. Thus, it is essential to pay attention to the quality of what you are getting and make compromises when necessary if you are on a budget.
Additional Accessories
How much does a pontoon boat cost when adding additional accessories?
Examples of accessories include boat trailers, which are useful for safety and towing, and boat covers, which are used for protecting your pontoon from the elements.
Other niche accessories like a fishing livewell, depth and fish finder, ski tow bar, and power steering for more powerful engines can also be added to your pontoon boat.
All of these accessories drive up the cost.
Conclusion
So, how much does a pontoon boat cost? It mainly depends on the engine capacity, the type of pontoon, and the standard features and accessories.
Do you want to go on lavish cruises with family and friends? Or do you want a sport pontoon boat? How much power do you want? And how many accessories would you prefer?
Answering these questions will get you closer to the final price of the pontoon you wish to purchase. See similar articles here to make better and smarter purchases in the future.