If you are interested in selling your motorcycle, it is very important that you find out its value first because the prices of vehicles fluctuate a great deal, within only a matter of months. The best way to determine your motorcycle blue book value is to visit the official Kelly Blue Book site for KBB Motorcycles value or NADA Guides for NADA Motorcycles value.
Kelly Blue Book published its first blue book way back in 1926 and it is now known as a standard guide for anyone who wants to receive information regarding their automobiles. Therefore, you can rest assured that the information you gain from this site is precise and will help you make any decisions regarding your vehicles.
This site provides a lot of information regarding the prices associated with new cars, old cars and exchange values. In addition to providing information about the motorcycle blue book values for motorcycles, they also offer the same for watercrafts and snowmobiles.
Once you log in to the Kelly Blue book website, you will see various options ranging from the prices of old cars, new cars, etc. At the right hand corner, you can select 'Motorcycles' if you wish to view more options. You will also have to enter your zip code as the prices of automobiles vary, depending on the location, to have a precise KBB Motorcycles value.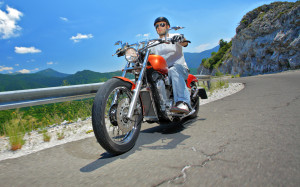 Once you click on the 'Motorcycles' option, you will get a lot of other options that allows you to select the value of your motorcycle. However, you will have to select the category before you proceed. Categories include Dirt, 2-Wheel ATV, Supermotard, Dirt Track, Touring, Scooter, 3-wheel Street, 4-wheel ATV, Sidecar, Dual Sport, 6-Wheel ATV, Trials, Utility vehicles, Sport, 8-Wheel ATV, Standard and cruisers, Mopeds and a lot more.
Apart from that, you can select the 'make' of your vehicle by choosing among BMW, Kawasaki, Harley-Davidson, Can-Am, Vespa, Suzuki, Honda, Ducati, Victory, Indian, Yamaha and Triumph. Below that, you also get an option to check the value of a used motorcycle too.
Depending on how you want to determine the value of your vehicle, you can select either the category or the 'make'. If you select the category, it will take you to the 'make' again and you can see a huge number of options listed alphabetically. For example, if you own a 2-Wheel ATV, click on that and you can see different makes for it. With 3 makes listed as Honda, Rokon and Yamaha, you can choose any of them, based on the type of vehicle you own.
Once you click on the make, it will take you to the year the vehicle was made. For example, if you click on Honda for a 2-Wheel ATV, you can select either 1987 or 1986, depending on the type of vehicle you own. Selecting the year, will take you to another set of options which represent the models of the vehicle. If you select the year 1987, you can see 1 model that says TR200 Fat Cat and it also lists the CC of the vehicle.
After you take all these steps, you can see the Trade-in value or the suggested retail value. You will have to follow similar steps on NADA Guides website if you want to see NADA Motorcycle value.
Kelly Blue Book is known as the best source to determine the blue book value for any vehicle you own as the information presented there is very realistic. With a few clicks, you will be able to find a lot of information about your vehicle, including the motorcycle blue book value, no matter what you own.