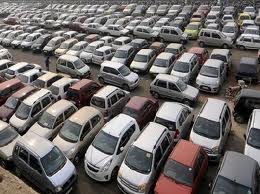 When buying a used car, you have control over the "hidden fees" some dealerships try to run past you when buying new, but that doesn't mean you won't have other costs to consider when you purchase your new used vehicle. It is important to be aware of these costs and what they entail. The best way to figure them out is to do a little research into the history of the car and then refer to NADA guide or NADA Blue Book for an estimated price..
What information do you need to ask about?
Damages: Has the vehicle been an accident? Has it had repairs that cost over $2000? The value depreciates if the answers is yes. If you ask, the dealer is required to give you this information.
History: Was the vehicle used as a taxi, police car, or in emergency rescues? Was it ever leased or rented? Was it ever used in a race? The value depreciates if the answer to any of these is yes well, and the dealer will be required to give you this information in writing so be sure to ask.
After you've asked this relevant information, and may or may not have adjusted the price accordingly, you need to be aware of the fees you will be required to pay when you purchase your used vehicle. NADA car value does not considers such fees for estimating NADA used car value.
Sales Tax: As with everything else you buy, you will have to pay a sales tax on the item. The sales tax on vehicles varies from state to state, so check with your dealer before you sign any paperwork.
Licensing Fees: If you do not already have a driver's license, you will have to pay a fee before purchasing the vehicle. This fee varies by state as well. It is best to go to the DMV first and get your license before you buy
Insurance Fees: Before you can buy are car, you typically need to prove you have automobile insurance. Insurance rates depend on many different variables, including the make and model of your car, the year it was built, and the age and experience of the driver. Before you buy, talk with your insurance agent if you have any particular questions and concerns. Especially since a lot of dealers will try to sell you on Gap Insurance.
Interest Fees: If you are not paying cash up front for your vehicle, you may choose to arrange a financing plan with dealership or through your bank. You will typically make monthly payments towards the vehicle, and interest rates will be applied to these payments. These fees vary per bank and per dealership, and often depend on when and where you are buying. Read your contract carefully and understand what your monthly payment will be before you finalize any purchases.
Repairs: If the car requires any type of repairs, the dealership will often fix them for you, but you will be required to pay. This is something to look out for when purchasing used vehicles, and you can avoid this fee by asking the questions covered earlier.
Upgrades: Dealerships will offer upgrades and other options, such a warranties and the like, and you will be required to pay a fee if you are interested in any of the options.
Prep Costs: Often, the dealership will have done some cosmetic work to your car to make sure it looks its best before you drive off. You may have to pay a small fee for this special treatment.
Total Cost: The total cost is always going to be different than the price listed on the tag after these fees are all considered, so keep that in mind when you are shopping around. What may look like a steal may very well be more expensive than you think once everything is assessed. When you are aware of all of the additional fees related to used vehicles, you can better guess what this total cost will be before signing any final paperwork.
You can get the most out of your money when you consult this list before you buy a used car. Always ask if you are unsure about additional fees and costs. By asking the right questions and being cognizant of the fees attached to pre-owned vehicles, you'll know what the fairest price is and how much you can afford. However, you can also consult NADA Blue Book or NADA guide to see a checklist before you buy a used car. NADA car value does not considers most of the things mentioned in the article.