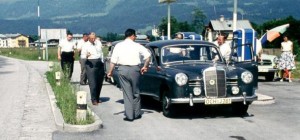 The National Automobile Dealers Association (NADA) was established in order to protect the interest of car dealers across the United States. In 1917, a coalition of dealerships petitioned the US Government in an attempt to alleviate the high taxes on luxury vehicles. When the petition proved successful, NADA developed into a permanent organization aimed at representing fair and regulated automobile values across the country. Always start with NADA blue book when looking to assess the value of your vehicle. NADA blue book and their corresponding website will help you determine the value of your car or any vehicle you are looking to purchase, new or used.
The value NADA lists in its NADA Book is often higher when compared to others, like Kelley Blue Book, since it primarily pertains to newer vehicles and is therefore utilized as a basis for tax determination. This high value is determined by the average price of vehicles sold wholesale from dealerships across the country. Navigating the NADA Guide website will help you better determine which value realistically reflects the value of your vehicle.
Log onto their website at NADA.com. NADA Guide offers three branches – Consumer, Business, and Dealer's Association. Read each carefully before deciding which area's services will best meet your specific needs.
The "Consumer" link is the most likely option. "Consumer" offers access to basic vehicular information, such as new and used car sales or an appraisal on your own, personal vehicles. In this section, the "Car Prices" link will help you find prices comparable to vehicles you own or wish to purchase. Keep in mind that NADA's listings are typically new vehicles, so details like mileage and condition will influence pricing when looking at used vehicles.
From the "Business" link you can subscribe to NADA Online. This subscription will give you privileged access to "dealer only" information regarding pricing and availability on a range of vehicles, including farm equipment. You will also be able to download NADA's e-Valuator software with this subscription. The e-Valuator offers in-depth guides to car values which will prove essential if you are looking to buy or sell a vehicle.
You can buy a NADA Guide online from the "Buy a Price Guide" link. NADA Book will automatically update prices monthly, keeping you up-to-date with the most recent vehicle values. Keep in mind, though, that while this guide is great for pricing, it is not able to properly assess unique additions to your vehicles, such as customized tires or stereo equipment. These modifications can greatly change the value of your vehicle. In order to get the most accurate appraisal on your vehicle, it is best to contact a professional appraiser.
NADA guide