If you want to learn how to drive a boat, you have to understand that there's often a massive learning curve. To help you out, we've compiled a list of tips and recommendations to quickly get you familiar with the prerequisites, basics, and best practices that can take you from a beginner to an intermediate level in no time.
Let's get started!
How To Drive a Boat: Things To Consider
Driving a boat is very different from driving a car. There is no brake, and when out on the water you need to focus on different things that will keep your boat operational even in extenuating circumstances.
Sea traffic is usually not as obnoxious as road traffic, and a lot of the time you will be all alone on the water. This means you have to know how to safely get yourself back to a dock without help. 
Before you do anything by yourself, you have to practice first and ensure that you follow all the safety recommendations of your state and the US Coast Guard.
Always be prepared in case of an emergency. This means you should always have safety gear and protective equipment around like a life jacket and a tool kit.
Additionally, if you want to learn how to drive a boat professionally, you should consider taking a boating safety course before you go out on the water. 
That way you are more equipped to ride different types of boats like a pontoon boat, powerboats, or sailboat. Plus, you'll be familiar with the best practices to ensure a fun day out on the water. 
Also consider choosing a safe body of water to start out, such as an inland lake.
Finally, if you are keen on learning how to drive a boat, then you should be aware of your responsibility to keep everyone on board your boat safe. 
Starting Your Engine and Getting Out on the Water
Starting your boat's engine is pretty similar to starting a car engine. You either press a button on newer models or turn a key to start the engine.
Some older, smaller boats use a pull cord to trigger the start of the engine, just like you would pull a generator.
After starting the engine, you are ready to move out into the water. Of course, make sure the throttle is in neutral before starting the boat.
Then, engage the throttle to move the boat forwards, or switch the gear to reverse and use the throttle to move in the opposite direction.
For safety precautions, before starting the engine you should always attach the kill switch to your belt, vest, life jacket, or special rigid clothing.
The kill switch is located near the ignition in most boats. When it is pulled it immediately kills the engine and brings the boat to a stop.
When attached properly, the kill switch will be activated if you accidentally fall overboard. It will stop the boat near where you fell so you can easily climb back aboard and continue your cruise. It's a very important safety feature.
Controlling Boat Speeds
Achieving optimum speeds on a boat is all about how efficiently you can ride with the waves and not against them.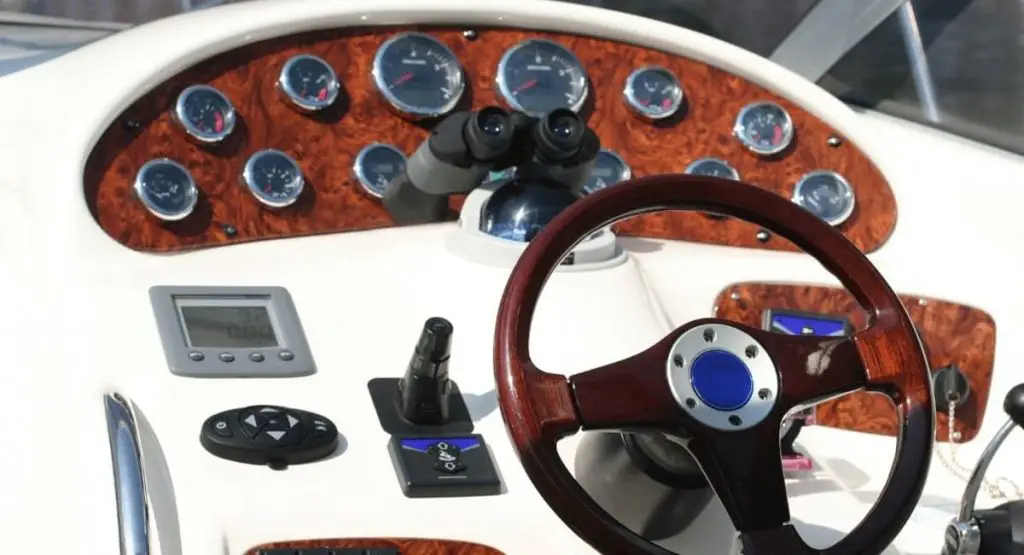 If you have a tiller steer system, you would normally use your hand to increase the speed of the propeller engine as well as control the direction of the boat.
If you have a steering wheel system, you would control the direction as you normally would with a steering wheel on a car and either use a hand or foot throttle system to control the speed.
Depending on the kind of steering system you have, you will need to pay attention to different things when controlling speeds.
A hand throttle system with a steering wheel needs to be adjusted to a certain speed and then maintained, so your hands will need to be on standby to quickly adjust speeds.
To reach top speeds, you need to rev the throttle to the maximum boat speed and trim the boat accordingly. 
Steering a Boat and Boat Traffic
Steering is achieved using a wheel system or a tiller system. The former is very similar to a vehicle and the latter is the more traditional control system in boats.
It is important to note that many environmental factors affect the efficiency of a boat steering system. The magnitude of wind and waves and the current of the water can directly affect steering efficiency and the direction of the boat.
Pay attention to wind and weather reports before taking your boat for a spin.
As we mentioned previously, traffic on the water is very low, but you should be aware of how to deal with incoming boat traffic to avoid collisions.
Always be courteous.
Keep to your right when there is an incoming boat in the other direction.
Look out for other boats when turning.
Be very careful when docking your boat and slow down completely.
Give the right of way to larger vessels, commercial ships, and any watercraft that cannot maneuver easily.
Use the proper sound signal wherever applicable, especially when overtaking.
Slowing Down and Stopping Your Boat
Unlike cars, boats do not have brakes, so you need to be situationally aware of what's around you in case you need to bring your boat to a stop quickly.
To stop your boat, you will need to stop accelerating gradually, then afterward set your throttle to neutral to stop the boat. To stop more quickly, switch the gear into the reverse position to change the direction of water flow.
Reversing will stop your boat faster in some situations if you master doing it quickly.
Conclusion
If you have followed this post closely, then you should have a basic understanding of how to drive a boat effectively and without incident.
Now get your boat and start cruising the open water in style. Practice in shallow water or a small body of water before going out into a large body of water.
Check out some of our other similar informational posts on boats.