If you're new to the world of boating, then you must surely have questions about the different types of powerboats, as well as their makes, sizes, and primary functions. 
It doesn't matter if you're considering your first boat purchase or if you're looking to upgrade. This article will comprehensively help you understand all you need to know about the different types of powerboats.
Are All Types of Boats The Same? 
The most significant difference between a ship and a boat is the size and carrying capacity of the boat. There are many different types of boats, and listing them all would be quite the task. Boats can be classified into three main categories: 
Man-powered or unpowered boats (e.g rafts)
Sailboats (sail-propelled)
Powerboats or motorboats (engine-powered)
Our focus is the motorboat also known as the powerboat. Due to technological, safety, and navigational upgrades, changes in the powerboat market are constantly evolving. 
Because of these changes, different categories of powerboats often share similar characteristics with other types of boats. 
It may come as a surprise to find out that there are several different types of powerboats that all serve different purposes. If you intend to buy a boat or actively get into boating, it's absolutely important that you know the options available to you. 
What Are Powerboats? 
Powerboats, also known as motorboats or speedboats, are boats that are powered exclusively by an engine. A powerboat usually has one or more engines to propel it over water. 
Powerboat engines can vary in type, shape, and size. These engines can be installed inboard or outboard. Engines installed inboard are usually part of the overall boat construction, while outboard engines are found behind the boat (attached to a transom). 
These engines either run on diesel fuel or gasoline. Some powerboats even have a hybrid inboard-outboard engine; the internal engine is installed inside the boat while the propeller and gearbox are outside.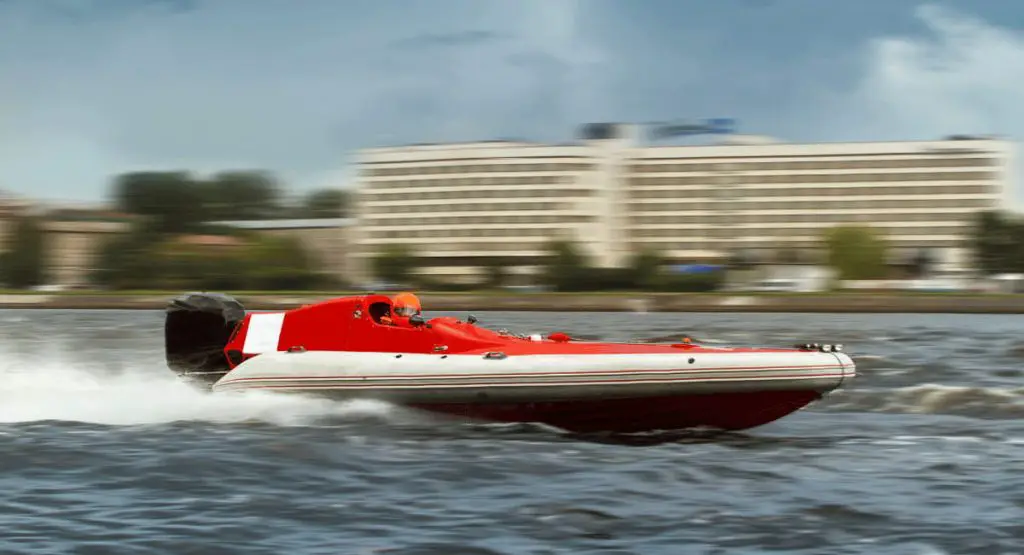 What Are The Different Types Of Powerboats And Their Functions?
Aft-Cabin
The aft-cabin boat is a modern and luxurious powerboat type. They range in size from as little as 11 feet to as long as 65 feet. The layout on this boat usually places the cabin behind the cockpit to ensure some extra privacy for guests or owners. 
The cockpit and helm are often accessed by a set of stairs. Due to a lack of deck space and more cabin space, this type of boat is most suitable for cruises or liveaboards; they can hold as many as 14 people comfortably at once.  
The inboard engine is located in the center of the boat, typically beneath the living room floor. Some of the best aft cabin boats have several models with inboard, outboard, or hybrid engines. They also run on diesel, gas, or other fuel systems.
Bass Boats
The bass boat is a small boat that commonly has a shallow draft, as well as a flat deck and a low freeboard. This type of boat is primarily designed for fishing on inland rivers and lakes. 
They're commonly made from fiberglass or aluminum, with the aluminum range coming up as less expensive, smaller, and lighter when compared to its fiberglass counterpart. They can be as little as 14 feet and as large as 23 feet. 
Bass boats feature a V-shaped hull and a low freeboard. A bass boat can be propelled by several means, including an outboard motor that moves the boat from one place to another swiftly, a trolling motor to slowly move the boat at a particular pace during fishing, and manual control involving oars should the boat's motor fail. 
Bay Boat
A bay boat is also a small boat that's designed with versatility in mind. Their exquisite design makes them suitable for fishing in salty waters as well as perfect for water sports or skiing. 
These types of boats commonly have a center console that is designed for sailing in shallow waters or close to shore. Bay boats are also primarily made from fiberglass. 
Building off the characteristics of several different boat types, a bay boat often has a shallow draft. This not only allows for a smoother sail, but also assists in safely navigating tight spaces.
They run as high as 25 feet in length to give extra storage space as well as additional fishing equipment. 
Bowrider
A bowrider is also a versatile type of powerboat that can be used for family sailing as well as watersports and fishing. Although they are primarily designed for recreational or everyday use, they can also serve other purposes. 
This type of boat measures as small as 17 feet and as large as 30 feet. They typically have a seating area in the forward portion of the ship (hence the name "bowrider"), and are powered by several types of engines depending on the boat's style and size. 
The accompanying type of engine depends on the primary purpose of the boat; some designs are suitable for casual cruising, while other designs are designed for speed. The extra area in front can also be used for lounging, as protective rails are installed to prevent accidents. 
The flat deck is commonly designed with a non-slip surface to prevent mishaps and to promote comfortable walking. This type of boat is more suitable for day use or cruises as it doesn't have a sleeping space or other home amenities.
Cabin Cruise
A cabin cruiser is a powerboat with more than enough space for sleeping accommodations for both crew and guests. It's a great option for an overnight stay or for relaxed sailing. 
They commonly have a number of home and modern amenities such as air conditioners, heaters, power generators, and refrigerators. They range in size from as small as 21 feet to as large as 45 feet. 
Not only do they have a deep-V bottom, but cabin cruisers also use a secure shaft drive mechanism used in combination with rudder steering. This makes them very suitable for movement in coastal waters.  
Center Console
The center console boat is a single-decked boat that is designed for offshore fishing or relaxation. They range in sizes as small as 13 feet to as large as 45 feet. They typically have a hardtop to provide shelter from rain or sun. 
Some designs of this model may offer small berths that are found inside the console.
Convertible Fishing Boat
A convertible fishing boat is a type of powerboat commonly associated with heavy lifting. They're  mostly used for deep-sea fishing since they have a large fishing deck. Convertible fishing boats are usually around 35 feet or larger. 
They can also be used for cruising or offshore fishing since they typically have large galleys, berths, and cabins. They're commonly found in designs with a longbow and a tall stature. Some designs even have multi-level cockpits to separate the onlookers from the fishers
Cuddy Cabin
A cuddy cabin powerboat is a small type of boat with a small shelter cabin. They also include a small berth, as well as a small cooking galley. They're typically found in lengths of 18 feet to 25 feet. 
Deck Boat
Deck boats feature a V-shaped hull along with a wide beam for extra performance. They commonly have open decks with a large sitting space. 
These boats are primarily designed for family or party uses, and are suitable for water sports or swimming. 
The outer body is made from fiberglass or aluminum and is powered by sterndrive or outboard engines. They come in sizes of between 25 feet to 35 feet long.
Dinghy
A dinghy is a small type of boat that's most suitable for boating newbies. They're  mostly powered by sails, oars, or small outboards. They are available in sizes between 7 feet to 12 feet, and often need to be transported by larger boats to go ashore. 
Downeast Cruiser
These boats are designed for offshore fishing as well as cruising. They come in  sizes between 26 feet to 40 feet and feature a cabin with a head, berths, and a dining area. They are also referred to as lobster boats. 
"Dual Console" Walk-Through
"Dual console" walk-through boats are powerboat types with double windshields and dashboards. These windshields and dashboards have walking space in-between for fishing or sitting. They are found in sizes between 16 feet to 30 feet. 
Express Fisherman
The Express Fisherman is a type of boat designed for offshore fishing. They have large open cockpits as well as fish storage areas, and are quite fast. While they don't have enough cruising accommodations, they do well enough to provide overnight shelter. 
Fish 'n Ski Boat
Fish 'n Ski boats are family boats and are typically used for fishing or skiing.  They are accompanying accessories for whatever needs you want them for. 
They offer comfortable sitting as well as elevated ski lockers and tow bars that are detachable. They range in sizes from 16 feet to 24 feet. 
Flats Boat
Flats boats range in sizes between 14 feet and 18 feet. They are primarily designed for shallow waters that require shallow drafts, and often use a push pole for navigation. 
High-Performance Boat
These types of boats embody their name. They're  also called the go-fast boats or powerboats. They are powered by a high horsepower outboard engine, and are specially designed to be strong, light, and fast. 
They range in sizes as small as 25 feet to as large as 60 feet, and are ideal for fast cruising or boat racing. 
High-performance boats have spartan cabins with a cockpit that can seat between 2-6 passengers. They commonly have narrow beams as well as a high power-to-weight ratio and steep deadrise. All this contributes to making it a very fast boat.
Houseboat
The houseboat is a boat that's a replica of a house. Simply put, it's a floating house. They have full rooms just like a house and can be a perfect choice for family living. They range from as large as 150 feet to as small as 25 feet. 
Houseboats are powered by inboard or outboard engines and have low freeboards.
Inflatable Boat
These boats are commonly used as dinghies on bigger boats. They're mostly used to transport or to store. They have inflatable sides, hence the name. 
Its floor is made from aluminum floorboards or plywoods for rigidity. Their sizes vary between 6 feet to 14 feet in length, and they are powered by outboard motors. 
Jet Boat
Jet boats are called such because they have single or multiple jet drives for propulsion in place of a propeller. They are often used for water sports since they are generally easy to maneuver. 
They range in size between 14 feet to 24 feet, and are great choices for shallow water.   
Jon Boat
Jon boat is a small utility boat primarily used for shallow water boating. They're found in sizes between 10 feet to 18 feet, and are made from fiberglass or aluminum. They can be used as a workboat as well as by new boaters. 
Multi-species Boat
Multi-species boats are made from aluminum or fiberglass. These boats are made for all types of fishing and are designed for rough waters. They're commonly found in sizes between 17 feet to 23 feet.  
Pilothouse Boat
True to its name, this boat features a pilothouse that is completely enclosed. These boats are designed for rougher seas. They are powered by inboards, outboards, or stern drive engines and are popular for cruising or fishing. and many types of fishing. 
They range in size between 25 feet to 30 feet, and commonly have a berth and head.
Pontoon Boat
Pontoon boats mostly have between 2 to 3 aluminum tubes to permit a broad platform. They're pretty stable and commonly have shallow drafts. They can be used for cruising, fishing, as well as water sports. 
They are powered by a stern-drive or outboard engine and are mostly found on small bodies of water. Their sizes vary between 15 feet to 30 feet. 
Power Catamaran
These are boats with double hulls. They are rugged, making for a more stable and faster ride. They range in sizes of 25-40 feet in length. They are also best used for offshore fishing and have a better fuel economy.
PWC (Personal Watercraft)
This is a small type of boat that is usually within 9-14 feet in length. Although they're made for 1 or 2 people, they feature bigger designs for as many as 4 people. 
They're  fun to drive as they feature a throttle steering control as well as reverse braking to reduce collisions. A boater also sits on rather than in this design. 
Rigid Inflatable Boats
Rigid Inflatable Boats are also known as RIBs. They're  powered by outboard engines on the transom. They are typically faster, come in large sizes, and have a hull made out of fiberglass or aluminum.
Runabout
These are multipurpose mid-sized boats that are suitable for cruising, watersports, or fishing. They're commonly powered by a stern-drive engine or an outboard engine. 
Sedan Bridge Boat
The sedan bridge boats belong to the family of big boats. They range between 35-65 feet. This boat type is built for long cruising; it has enough accommodation space that can last for days at a stretch. 
Ski And Wakeboard Boat
The ski and wakeboard boats are both primarily designed for waterskiing and wakeboarding. However, because of the technicalities involved in both sports, there is a slight difference in how each boat is constructed.
Most ski boats use a direct drive transmission to produce the smallest, flattest wakes, while wakeboard boats use a V-drive inboard transmission and ballast systems to generate larger wakes.
Skiff
The skiff is a type of boat that's ideal for new boaters. They have a steering console and are best used in shallow waters. They typically have cathedral-shaped or flat hulls. 
Utility Boat
Utility boats are boats that are mostly used as workboats or for fishing. They're powered by outboard engines and are made from aluminum. They're built for rugged use and are suitable for new boaters. 
Walkarounds
These types of boats range in sizes between 20-30 feet. They are commonly found on large waters and are powered by inboard, outboard, or hybrid engines. They also permit an angler to move around the cabin.
Now That You Know The Different Types Of Powerboats…
It's time to select one that best meets your unique boating needs. Especially if you plan on buying a new boat from a dealer and need to negotiate. This article is an extensive guide on the different types of powerboats available, the features they offer, and the purposes they serve best.
Each powerboat type generally belongs to three categories namely: fishing boats, cruising boats, and water sports boats.
Before choosing the right boat for you, always consider what you intend to use it for, the number of people who will be on your boat, and how much time you intend to spend on the water. Once you have this figured out, you're ready to start your boating journey.