If you're looking to upgrade your RVing experience or to buy your first recreational vehicle in 2023, there are plenty of options to consider, as many top RV manufacturers are already unveiling their new models. But what are the standout options?
The best 2023 motorhomes and trailers models are the Tiffin Wayfarer, Entegra Cornerstone, Roadtrek Zion Slumber, Thor Omni, Winnebago Hike 100, Jayco Jay Flight SLX, and Grand Design Solitude 391DL.
All the above units have debuted new floor plans or features, making them more impressive than their previous years' models. If you're more of the vintage travel trailer type, then check out some old school beauties around our site. In this post, we will share with you what makes each of these RVs special, highlight their specs, amenities, and prices, and mention who they're built for.
Tiffin Wayfarer 25 JW: Best Class C RV 2023
GVWR: 11,030 lbs.
Dimensions(LxWxH): 25'8″x90"x11'4''
Sleep Capacity: 4
Holding Tanks: 30 gals Fresh, 33 gals Gray, 28 gals Black
MSRP: $214,882
Boasting impeccable built quality and upscale furnishings, the Tiffin Wayfarer 25 JW tops our list of the best RVs in 2023. This Class C accommodates 4 sleepers, making it perfect for a small family. You can fix 5-star meals on the 2-burner cooktop, make quick snacks on the convection microwave, preserve leftovers in the 12V 6.5 cu. ft. fridge, and store groceries in the 3-layer pantry.
Fulfilling work responsibilities on the road is a breeze thanks to the desk that includes a flip-up TV for entertainment. Built on a Mercedes Sprinter chassis, this rig offers high-performance handling and is outfitted with industry-standard safety features. Other incredible features include a full bathroom, 3.2 kW generator, a hydraulic leveling system, and clever storage compartments throughout.
Entegra Cornerstone: Best Class A RV 2023
GVWR: 11,030 lbs.
Dimensions(LxWxH): 25'8″x90"x11'4''
Sleep Capacity: 4
Holding Tanks: 30 gals Fresh, 33 gals Gray, 28 gals Black
MSRP: $903,480
Families looking for a luxury motorhome for 2023 will be thoroughly impressed by the Entegra Cornerstone. This motorcoach is packed with exceptional amenities throughout to pamper its owners. Some highlights include heated, cooling, and massaging driver and passenger seats, hand-laid porcelain tile flooring, a plush king-size bed, an electric fireplace, and residential-style appliances.
The Class A motorhome is designed around a Spartan K3 chassis and is powered by a diesel engine. To keep you safe, there are features such as adaptive cruise control, collision avoidance, blind-spot monitoring, an offline navigation system, and disc brakes on every axle. For more convenience, you'll have two 200W solar panels, a Wi-Fi extender, and 5 floor plans to pick from.
Roadtrek Zion Slumber: Best Class B RV 2023
GVWR: 9,350 lbs.
Dimensions(LxWxH): 20'9"x 6'11"x9'5"
Sleep Capacity: 5
Holding Tanks: 37 gals Fresh, 14 gals Gray, 8.5 gals Black
MSRP: $178,010
If you prefer a nimble touring experience, the Roadtrek Zion Slumber is one of the best small motorhomes of 2023. This campervan is designed for couples or small families who want separate sleeping and dining areas. Its most identifiable feature is the pop-top roof that opens up to create extra sleeping space.
Between its walls is everything RVers yearn for, including a modern galley, 24" Smart TV, instant hot water, climate control, generous storage, and a permanent bathroom with a marine toilet, sink, and shower. Some awesome 2023 updates include 600Amp hour of lithium batteries, a Lagun table mount, 9-speed transmission, Sumo springs for the rear suspension, and updated safety features.
Thor Omni XG32: Best 2023 Motorhome for Off-Grid Camping
GVWR: 19,500 lbs.
Dimensions(LxWxH): 33'8"x8'3"x12'6"
Sleep Capacity: 5
Holding Tanks: 75 gals Fresh Water Tank, 47 gals Gray, 40 gals Black
MSRP: $285,750
Campers who like to boondock will instantly love the 4x4 Thor Omni XG32. To help you navigate the rigors of the less-beaten path, it has a 6.7L Power Stroke V8 turbo engine and rides on the heavy-duty Ford 550 or Ford 600 chassis. Even more impressively, it has the power to tow 10,000 lbs.
Extending your wilderness camping trips won't be a problem thanks to the massive holding tanks, built-in diesel generator, and solar power setup. Inside, you'll find some nice touches, including premium cabinetry, a panoramic skylight above the over-cab, and an all-in-one control center. In addition, it has a large dream dinette, theater seating, 3 TVs, an exterior entertainment center, and a Wi-Fi extender. Thor has an incredible lineup of models, including their Thor Gemini RV.
Winnebago Hike 100: Best Lightweight Trailer for 2023
GVWR: 4,200 lbs.
Dimensions(LxWxH): 15'11x8'1"x9'11"
Sleep Capacity: 3
Holding Tanks: 31 gals Fresh, 25 gals Gray, 4.75 gals Black(cassette toilet)
MSRP: $46,135
Another of the best towable RV in 2023 is the Winnebago Hike 100. It's designed for outdoor adventure, and it combines comfort and ruggedness in a compact and easy-to-tow package. You can easily pull it with a mid-size SUV or camper van. Although it's nimble, it doesn't skimp on amenities, and you have 5 layouts to pick from.
Some onboard features include, sleeping space for three, a well-stocked galley, ample cargo space, and excellent interior height for tall folks. Staying fresh and clean will be easy thanks to the wet bath with a cassette-style toilet, a full shower, and a power vent. Step outside, and you'll find awnings on three sides of the trailer, a 200-watt solar panel, enclosed tanks, an outdoor shower, and a side-mounted roof ladder to bring more gear.
Jayco Jay Flight SLX: Best Budget RV 2023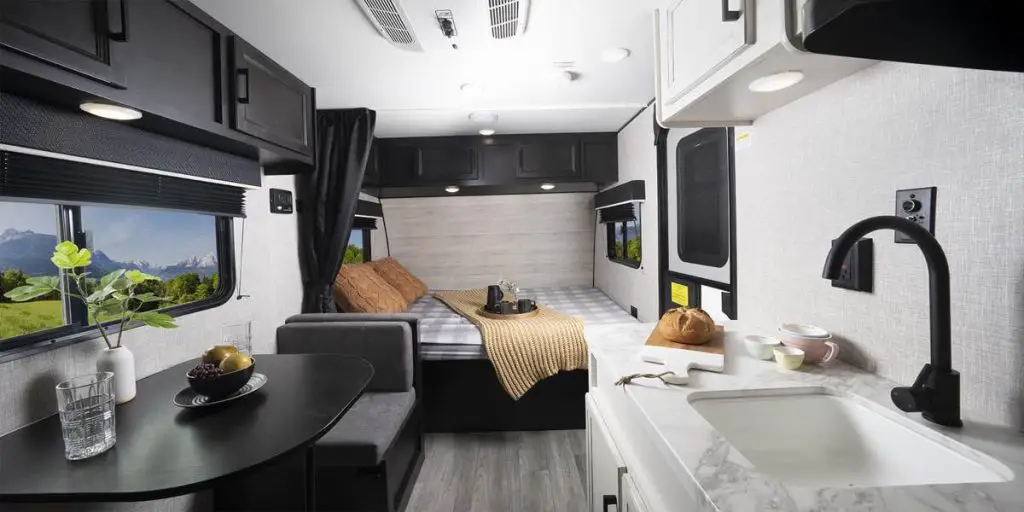 GVWR: 4,150 lbs.
Dimensions(LxWxH): 21'8″x7'1"x9'3"
Sleep Capacity: Up to 5
Holding Tanks: 20 gals Fresh, 19 gals Gray, 19 gals Black
MSRP: $23,334
If you're looking for something affordable, the best RV for 2023 is the Jayco Jay Flight SLX. This trailer packs a punch in a small space and has 5 floor plans to pick from. Our favorite layout is the SLX 7 174BH. This floor plan accommodates five sleepers and has an abundance of amazing features to keep the traveling crew happy.
Upfront is a queen bed, mid-ship is the dinette and kitchen, while the rear has a set of bunk beds and a dry bath. The camper has solid hardwood cabinet doors, vinyl flooring, a fully-equipped galley, a premium sound system, wardrobe storage, and a 13,500 BTU AC. Other nice touches include a solid step entry, 10' power awning, exterior speakers, large grab handles, a bathroom skylight, patio lights, stabilizer jacks, and Goodyear Endurance tires.
Grand Design Solitude 391DL: Best 5th Wheel RV 2023
GVWR: 16,800 lbs.
Dimensions(LxWxH): 43'11"x8'5"x13'5"
Sleep Capacity: 6
Holding Tanks: 81 gals Fresh, 106 gals Gray, 106 gals Black
MSRP: $144,461
We can't talk about the best RVs for 2023 and fail to include a fifth wheel. If more living room is what you want, the Grand Design Solitude 391DL is one of the most spacious 5th wheels you can find in the market, and it's reasonably priced. This triple slide rig boasts two separate bedrooms, making it ideal for families that need separate sleeping spaces.
Even more exciting, there are two dry baths featuring a shower with a skylight, toilet, vanity, and sink, plus giant holding tanks. Other standout features include an upscale kitchen with an island, an entertainment center with an electric fireplace, theater seating, a free-standing dinette, and two entries. In addition, it has an outside kitchen, large scenic windows, a tall ceiling, big cabinets and closets, and generous exterior storage.