Harley-Davidson is famous for its wide range of motorcycles. If you want to know more about the different types of Harleys out there, then you are in the right place.
There is so much variety when it comes to the past and present models of Harleys that the motorcycle manufacturer has produced over the years. While many models have been discontinued, new and more advanced ones are released to suit consumers.
Get to know the history of this iconic brand and some of the makes that it produces. 
Background on Harley Motorcycles
Harley motorcycles are manufactured by the American company Harley-Davidson Inc. The company has been around since 1903, when it was founded in Milwaukee, Wisconsin, by William S. Harley, Arthur Davidson, Walter Davidson, and William A. Davidson.
During the Great Depression of the 1930s, many American motorcycle manufacturers went out of business, but Harley-Davidson pulled through. The company has continued to grow and now has factories in various locations in the USA, South America, and Asia. 
Harley-Davidson is a publicly listed company on the New York Stock Exchange. Its expansive range includes not just different types of Harleys but also scale models, toys, apparel, and other related merchandise.
Harley-Davidson Engines
Various factors distinguish one Harley from another, and the engine is one of the most important ones. Since the early 1900s, Harleys have been manufactured with different types of engines, many of which have been discontinued.
To give you an idea of the timeline of Harley-Davidson engines, here are some of the types that have been used over the years:
Light engines (S engine discontinued in 1952)
One-cylinder engines (Various types including Hummers and Baja, all of which were discontinued by 1972)
Big Twin engines (Various types, all of which were discontinued except the Milwaukee-Eight, which were first released in 2017)
Sport engines (Various types, all but the XR and Evolution have been discontinued)
Fluid (water)-cooled engines (Revolution discontinued and Revolution X operating since 2013)
The history of Harley engines is interesting and there's a lot of information available if you would like to delve deeper into these famous motorcycles. 
Different Types of Harleys: The 7 Models
There are seven modern Harley-Davidson models, which can be easily distinguished based on three elements: frame, suspension, and engines.
The seven Harley models are Touring, Softail, LiveWire, V-Rod, Sportster, Street, and Dyna.
Let's take a look at each family and get to know some of the bikes in that group.
Touring
Motorcycles in the Touring family are also known as "baggers" or "dressers." All of these bikes have Big-Twin engines and are all available in various trims. Some of the common models in this family include Road King and Electra Glide.
The Touring family of Harley-Davidson motorcycles is the only one with full fairings with radio. These bikes also have large saddlebacks and rear coil-over air suspension.
Softail
Harley-Davidson is a longstanding company, and tradition is one of its key values. The Softail family of motorcycles falls under this branch of traditional bikes. Some Softail models have "Heritage" branding, which can be a trip down memory lane for anyone who remembers that time in history.
The Softail models use a big-twin engine and have a Softail chassis. You can distinguish various Softail models from their front wheel diameter and the use of a Springer fork.
Dyna
The Dyna family uses the big-twin engine and includes footpegs or floorboards. To isolate engine vibration, all Dyna models have a rubber-mounted engine. 
Sportster
Sportster models are lighter and smaller than many of the other Harleys out there. These motorcycles were designed for racing and are suitable for both dirt and flat tracks.
Modern Sportsters use an Evolution engine. The Sportster S model launched in 2021 is the only model in this family to use a different engine. It uses a 121hp engine and features cornering-ABS and lean-sensitive traction control.
V-Rod
If you are thinking about a Harley bike with a classic drag look and high power and aggression, then a model from the V-Rod family might be a good fit. They are also referred to as VSCR bikes. 
The V-rod family of motorcycles is powered by large 60-degree V-Twin engines. These engines were developed by Harley-Davidson and Porsche in cooperation, so they bring a race-car type level of performance. 
Two popular bikes in the V-Rod family include the Night Rod Special and the V-Rod Special. The V-Rod bikes are muscle bikes with a Revolution engine and include overhead cams and liquid cooling.
Some of the distinguishing factors of these motorcycles are the 60-degree V-Twin engine, the hydroformed frame, and the radiator.
Street
With a growing interest in motorcycles from the younger crowd, Harley-Davidson produced the Street family of bikes to capture this market. The Street 750 and the Street 500 were both introduced in 2014.
The larger of the two models, the Street 750, weighs 218kg. Of all the Harley-Davidson motorcycles, it is one of the bikes with the lowest weight and highest ground clearance. Street 750 also uses the Revolution X engine, which is a liquid-cooled, 60 degrees V-Twin engine.
Street 500 is the smaller displacement version of this motorcycle geared for younger riders. The Harley-Davidson Street bikes are among the latest offerings for this traditional and dynamic motorcycles company. 
LiveWire
With electric vehicles becoming more and more popular, the trend has also extended to motorcycles. The LiveWire family of Harley-Davidson motorcycles is the first electric bike. It was released in 2019.
The LiveWire has a high-voltage battery that can travel for up to 98 miles. This bike also has two charging options--the Level 1 slow recharge and the Level 3 DC Fast Charge.
Tips for Choosing from Different Types of Harleys
There are so many different types of Harleys to choose from. What are some of the important considerations for someone who is shopping for a motorcycle?
Picking a model is a deeply personal choice, but some standard considerations and questions can get you closer to your dream bike. These include styling, bike purpose, bike size, and extra features and trimmings. You should also consider your riding level and the cost of the bike.
Here are some questions you can ask yourself and considerations you can make to help you find the best motorcycle for your requirements:
The fit and size of a motorcycle are essential if you want to enjoy your ride, so make sure you get a bike that is suitable for your build.
Pay attention to the style of the motorcycle and its general appearance. After all, you want a bike that looks good and fits your style, so pick the right trims!
If you are a beginner, it's better to start with a smaller and easy-to-ride bike until you are confident in your riding abilities.
Know that you always have the option to customize many of the features and the form of the motorcycle to give you maximum comfort. 
Performance is also a very important consideration, especially if you have a particular use case in mind. If you just want to use your bike for commuting in the city, your needs are slightly different from someone who wants to ride on a dirt trail.
Newer Harley motorcycles now include a whole range of advanced features, so if you want a bike with a radio or a touch screen, make sure you ask for this.
One of the best tips you can get when choosing a new motorcycle is to try them out. Sit on as many of them as you can and do a test drive to make sure you are comfortable and the bike is everything you hoped it would be. 
There are many places to get information about a Harley motorcycle. You can browse the internet, ask a dealership, or talk to a past or current owner. The community of motorcycle owners is international, with people from all over the world.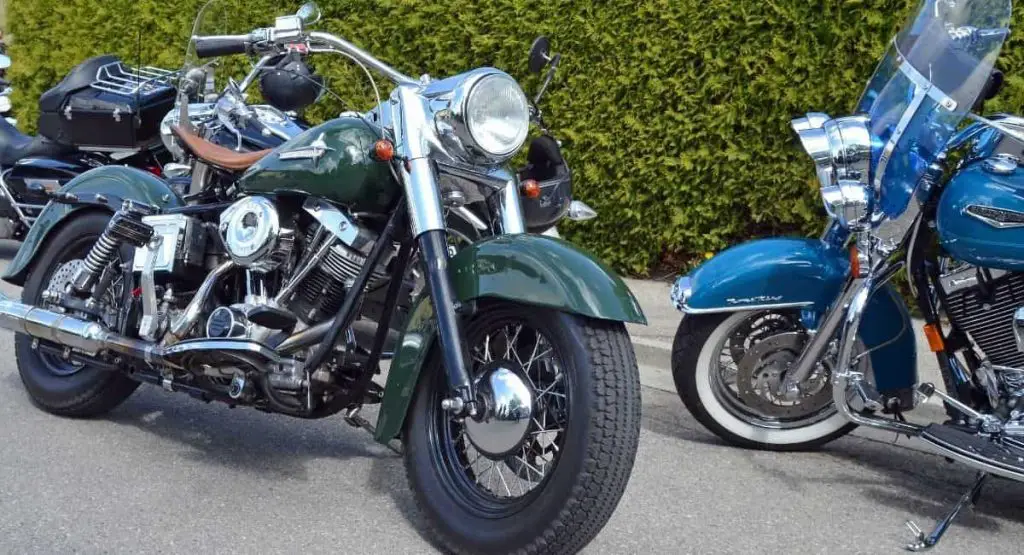 Buying a Used Harley Motorcycle
Getting a brand new Harley-Davidson bike is exciting because you get to be the first to ride and enjoy the bike. With a new Harley, you know that everything is still in great shape.
There's a reason this iconic brand has been around for decades, and high quality plays a significant role in its success. That being said, normal wear and tear do occur to any motorcycle over time, so this is something to be expected.
When you buy a new Harley motorcycle, you have to consider the cost. If you go for a used one, however, you are guaranteed to pay a much lower price.
Here are a few things you should consider if you do decide to buy a pre-owned motorcycle:
Know the vehicle history, including mileage, accidents, and repairs.
Familiarize yourself with the model and make of the motorcycle.
Get an accurate estimate of the value of the used Harley motorcycle.
If you need assistance in determining the motorcycle Blue Book value, there are many resources available. Knowing how to price a used motorcycle correctly will help you get value for money and don't pay more than you need to.
Popular Harleys Featured
There are many popular Harleys, many of which have stood the test of time. Here is a look at two notable models that you may or may not have already heard of.
Street Glide Special
This Harley-Davidson motorcycle earned the first place position out of all the Harley-Davidson motorcycles for 2020. It is a V-Twin cruiser characterized by an all-black finish. It also features Prodigy rims with sleek hard cases, which help it to stand out all the more. 
Road Glide Special
This Harley also ranked highly among all bikes from the famous brand. It has a Milwaukee motor and its 32-degree lean angles are perfect for navigating corners. 
This bike has great safety features. The Reflex Defensive Rider System from Harley-Davidson provides a powertrain, advanced chassis control, and electronic brake control.
As far as extra features and accessories, this motorcycle is equipped with Bluetooth connectivity, tire pressure readings, navigation, a 4-speaker stereo, and a touchscreen.
FAQs
Take a look at some of these commonly asked questions about Harley-Davidson motorcycles. You might just find the answer you are looking for to help you choose your next bike.
What is a good Harley motorcycle for a new rider? To avoid getting overwhelmed with more powerful and complex Harleys, you can try the Harley-Davidson Street 500. It has an anti-lock brake option and is also great for daily commuting.
Which bike should I get if I am most interested in high performance? There are many options at your disposal, but motorcycles from the V-Rod, Street, and Sportster families are particularly suited for this use.
What is a good bike for long-term riding, performance, and touring? The Touring family of bikes is perfect for this.
What is the Dyna family of Harleys known for? Anyone looking for a motorcycle that combines performance and functionality can look no further than the Dyna and Softail family of bike models.
Conclusion
There are different types of Harleys available on the market. Some are more traditional bikes with classic features and engines, while many have been remodeled to meet the new market needs for modern designs.
When differentiating between different models and families of Harleys, you can look at the engine as well as the other key features. There's a Harley bike out there for every preference including racing, city riding, beginners, pros, young people, and energy-conscious users.
For more information to help you choose your new motorcycle, visit Nada Book Info.