If you have a car that doesn't run, it probably seems like it's only good for the junkyard.
Actually, this isn't always the case. Selling a car that doesn't run is completely possible and can bring in some extra cash.
So, before you allow your car to sit in the garage and turn to junk, let's show you exactly how to sell a car that doesn't run.
In this post, we cover all the options you can try to sell a broken-down car while maximizing profit and putting in the least amount of effort possible.
How Can I Get Money for a Car That Doesn't Run?
Even if your car no longer turns over when you turn the ignition, it still has some value.
This value is what is called part value. There are plenty of marketplaces and junk car buyers looking for cars that are not necessarily running to buy and make a profit from.
These people will often buy your car, find a way to fix it, and sell it in other markets. Even if it's completely unfixable, they will sell the parts as OEM parts.
Let's dive right into the best options to sell your car even if it has stopped running.
How To Sell a Car That Doesn't Run
#1 Sell Your Car as Is
Many people never even consider this option, but it's still the best way to sell a non-running car before turning it into a complete junk car. There are some steps to follow to ensure you get a good price for your car. A good price should be half the price you would have sold it for if it was running.
Clean up your car: To save money, it's best to do this yourself. If you can shell out a few bucks, give your car to a professional who will clean every nook and cranny of it, even the engine. This will make the car look presentable and well-maintained.
Post an online ad: The next thing you want to do is post an online ad on eBay, craigslist, or Facebook marketplace and list it for half the price if it were a running car.
Be completely honest: This is where most car owners miss the mark and where a private buyer will lose interest. If you hide details of your non-working car, even if the buyer were to show up, they would immediately figure out that it's not running and back out of the purchase.
Tell them everything: Tell them exactly what is wrong with the car on the ad so buyers can make an informed decision.
List all the details: List the type of engine, the mileage, the number of owners, the model and year, if it's a limited edition, the key problems, and anything else you can think of.
Put up as many pictures as possible.
After the car is cleaned, start taking money shots of your car from different angles. Then put them up on the online ad.
If you follow all these steps, you can get a higher price online from a private party or someone looking for a project car they can work on, even if your car has a bad engine or a busted engine.
#2 Fix and Sell (Conditions Apply)
This is an option worth considering if you will still make a profit when you sell the car after factoring in the cost of repairs you made yourself.
If you have an old model car with engine problems or transmission problems, then you would most likely incur more cost from the repairs and sell at a loss.
This is usually only a good option if you have a newer car that still has considerable value in the marketplace or a car that would still sell for a fair price even after costly repairs.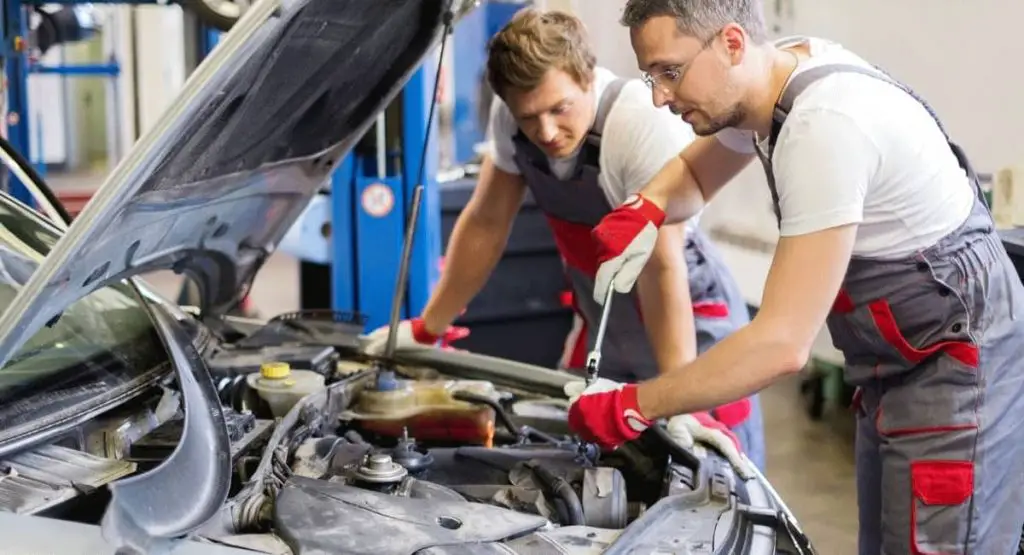 Once fixed, you can sell it at fair market prices, and get back additional cash you would have lost if you sold it as is.
#3 Sell Your Car for Parts
Instead of selling your broken-down car to scrap yards for peanut prices or selling to a junkyard, you can sell your non-running car for parts yourself.
There are two ways to go about this. You can either do all the work yourself and disassemble the cars into valuable parts or pay someone to do it at your local repair shop.
Directly place an ad online that describes your intention to sell the car for parts and list all the valuable car parts that are in good condition. 
You can get lucky and find someone willing to buy the entire piece at parts price. The key thing here is honesty and being completely upfront about the state of your car.
Some of the parts you should consider selling as scraps include:
Headlights and tail lights
Wheels
Tires, rims, and caps
Media system
Side-view mirrors
Ignition system
Battery
Speedometer head
Alternator
Power steering pump/motor
Air conditioner compressor
#4 Find the Right Auto Dealers
We know how difficult it can be to find the right auto dealer that will buy a car that doesn't run, so this option may take more time than others. Try to ask around, search online, and talk to your local car dealer about your car.
Many auto websites are currently offering to buy junk cars and less-than-perfect cars. 
You can try them as your last-ditch option. Instead of following the online process, we recommend calling them up directly and speaking to the manager about your car and what you are willing to sell it for.
Be honest and courteous, and you will get a much higher price than what they have set up online.
Other Options To Consider
Donating Your Car to a Charity Organization
One other option worth considering is donating your car to a charity organization. 
This allows you to deduct the cost of the vehicle from your taxes at a later date, which will save you a decent amount of money.
You should take note of the following to qualify for the deduction:
The charitable organization must be qualified by the IRS at the very least and should be recognized as an esteemed organization.
You should determine the market value of your car on Kelley Blue Book or other credible websites.
Get all the appropriate paperwork for your car including the title or the deed in case it's requested.
List the tax exemption on your 1040 tax forms under Schedule A. It should be less than half of your gross income.
Finally, you should get your tax deduction after it is approved by the IRS. You may need to send in all the paperwork you have gathered for proof if it is requested.
Other Options To Avoid
Taking Your Car to the Scrapyard
You might be urgently looking to get rid of a car that doesn't run, but the bottom line is that sending your non-running car to the scrapyard is a waste of valuable resources, especially if it can still be sold for parts or repaired at a profit.
Most scrap yards determine the value of your car based on the weight of the scrap metal and not the other usable parts, even though they may later resell the parts after buying from you.
Also, just because your car is not working doesn't mean it has lost all value. Some die-hard mechanics may consider your car a steal or want to take on the challenge of restoring it as much as possible. You will almost always get better prices from these people than from the scrapyard.
Only consider sending your car to a scrap yard if it has sustained unusual damage in an accident or after you have sold all the valuable parts and reusable parts.
Conclusion
Now you finally know exactly how to sell a car that doesn't run. Instead of letting your car sit in the garage and turn to junk, flip it for a profit and make some extra cash!
Make sure to try the steps we have laid out in this article to maximize your profits, but remember to be realistic about the price you can get for your car.
Keep in mind that it is better to sell directly to individuals than to sell to an auto dealer or a 3rd party, and you should almost never resort to taking your car to a scrapyard. 
And if you liked this post and want more similar information, check out these other articles.