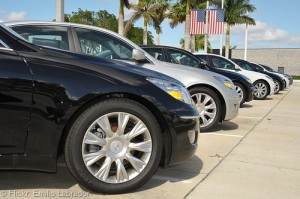 Whether you are looking to buy or sell a new or used vehicle, tools exist in print and online to help you determine its overall value. These sources will equip you with information you can use when shopping around and can greatly affect the monetary offers and quotes you receive from dealerships and private sellers. The two most popular guides available are the National Automobile Dealers Association (NADA) and Kelley Blue Book also known as KBB. NADA Blue Book was initially designed to list prices strictly for dealerships, while Kelley Blue Book takes local prices, private sales, and auctions into consideration in its price listings. The following article compares NADA guide with KBB to help you determine which would help you most in your future sales or purchases, but keep in mind that today many dealerships and private sellers cross-reference both in order to determine the most accurate listing price.
Foundation
NADA Blue Book was created in print in 1971 and went online in 2000. It was initially developed to alleviate taxes on automobile sales, and for this reason today it is used primarily by dealerships in regards to new vehicles as opposed to used vehicle sales.
Kelley Blue Book originated as a strictly-dealership reference as well when it first came into print in 1918, but eventually was embraced by private sellers and local buyers. Its website has been operational since 1995.
Both are free to use.
Sources
NADA Guide generates its listings solely from dealership databases which log each vehicle sold through dealerships across the country. This log is then used for future reference when a similar vehicle is purchased.
Kelley Blue Book employs representatives who attend local auctions across the country, garnering average values on vehicles that are sold at a range of prices which vary across states.
Accuracy and Pricing
Since NADA Guide operates primarily with new vehicles, which are typically in excellent condition, they list higher values.
Kelley Blue Book gives users the option to list the condition of the vehicle on a range from Excellent to Poor, which will adjust the price and value, resulting in a more accurate quote.
Loans and Insurance
NADA Blue Book does not feature any loan or insurance information on their website.
KBB provides information and links for automobile insurance and loans.
Available Vehicles
NADA Book provides listings and information on a range of vehicles, from new vehicles, motorcycles and ATVs, classic cars, boats, and mobile homes.
Kelley Blue Book focuses mainly on automobiles.
News
NADA Guide provides value and price listings only.
KBB offers news articles regarding tips for buying and selling vehicles, among other things.
NADA Book